Over 240 people followed the invitation of the GDG Mauritius and came to the second DevFest on the island. This year, we organised this full-day event about Google's technologies in corporation with SUPINFO International University at the Uniciti Education Hub in Pierrefonds.
Similar to DevFest Mauritius 2018 we were able to mobilise over 20 speakers to share their experience and knowledge in over 20 sessions; split into four individual tracks. Among them, absolutely thrilling for us, we had a visit by two Google Developer Experts (GDE) - namely Mike Geyser, GDE for Web Technologies from South Africa, and Robert Thas John, GDE for Machine Learning & Google Cloud Platform from Nigeria.
October is also in the spirit of Hacktoberfest. Hence, a few fellow developers of the Front-end Coders offered to run an introduction workshop on Open Source, git, GitHub and how to get involved.
DevFests are community-led developer events hosted by Google Developer Groups around the globe. GDGs are focused on community building and  learning about Google's technologies.
To create awareness about DevFest and invite more people to register, our organising team drafted a design for an A3 poster that was distributed to various universities and institutions of tertiary education across the island. We managed to contact a journalist from La Sentinelle and sent a brief overview of Google DevFest which was kindly published in the newspaper L'express.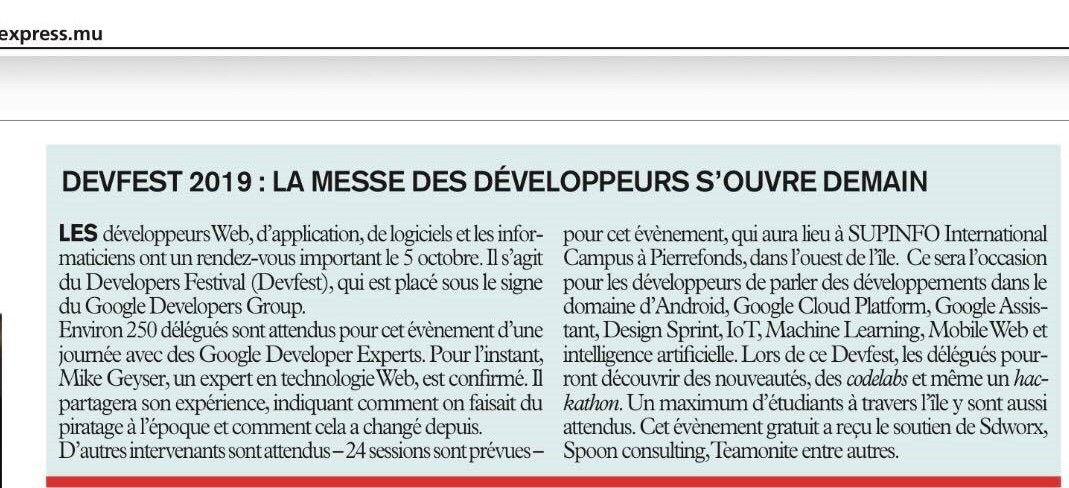 Plus, we decided to run a small paid campaign on social media to reach more people.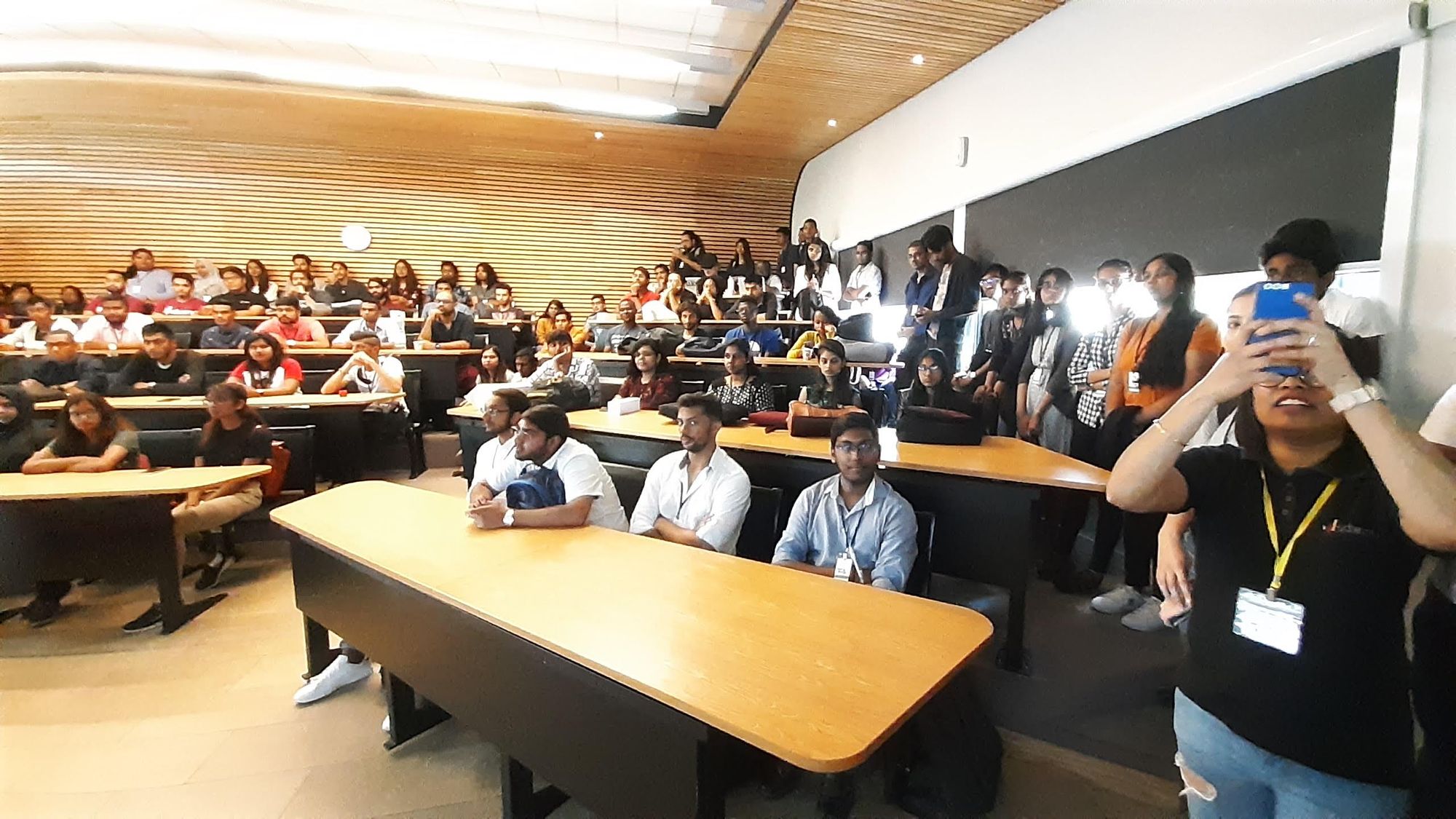 Both approaches worked nicely. We had a good amount of students which partially had organised transport from their campus to come to DevFest. The number of members on our GDG Mauritius page on Meetup grew by nearly 300 new sign-ups.
What happened at DevFest Mauritius?
In comparison to the previous DevFest we can proudly report that we were able to increase the figures.
22 Sessions
22 Speakers including 2 GDEs
244 attendees (counting 81 female attendees)
Hundreds of pictures in our Photos album
In particular we were amazed by the high number of female attendees. With approximately 1/3 of the total number of participants we are very pleased about that.
One of the aims of DevFest is to cater for diversity and inclusion. During the early stages we reached out to the local Women Techmakers (WTM) ambassador to discuss ideas and ways to get more women attracted to DevFest. It seems that it paid off...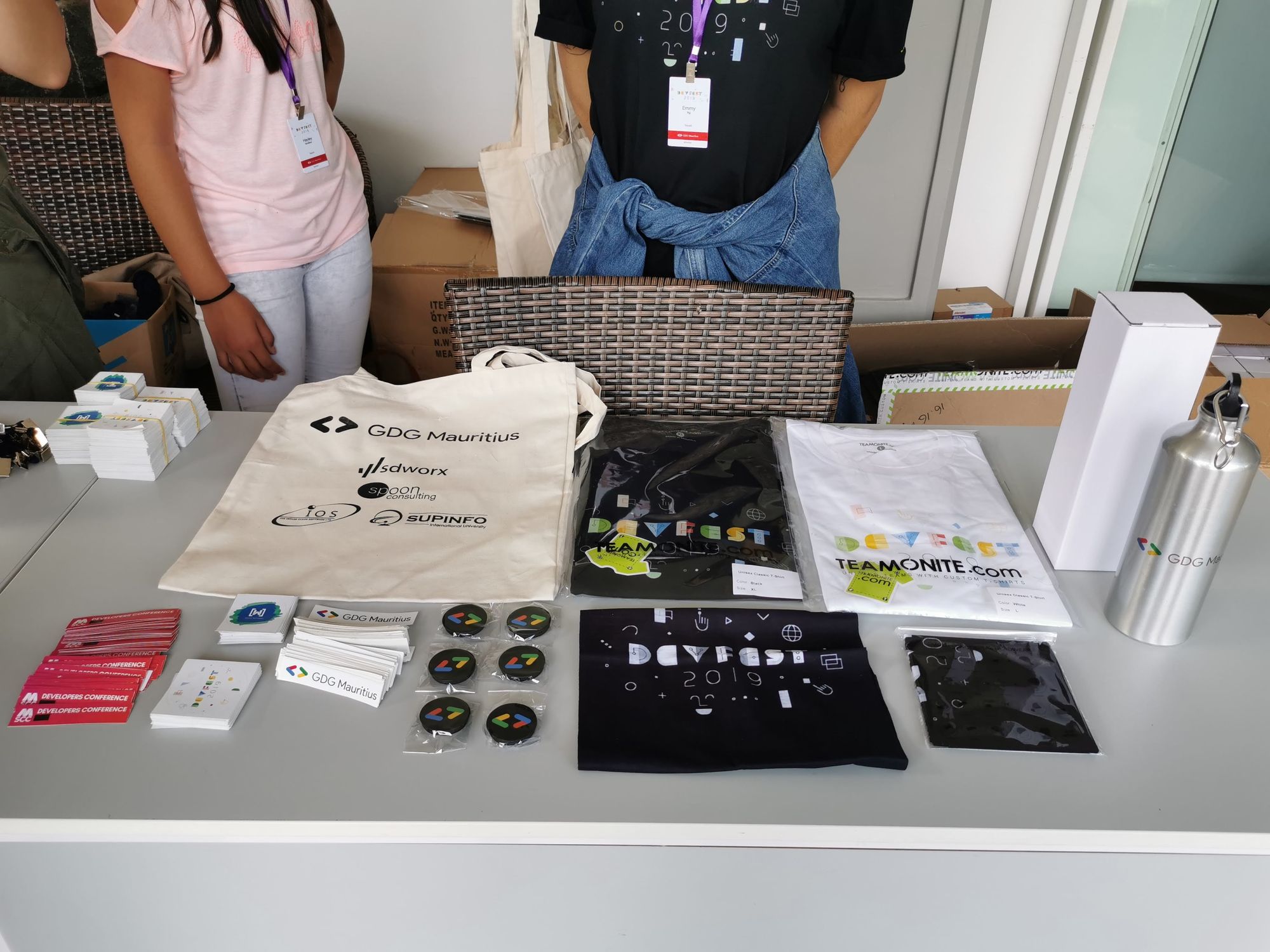 More details on the agenda of sessions and the associated speakers can be found on our DevFest conference site.
One of our long-standing community members, Sandeep, got inspired to write a blog article since a very long time. Read about his views of Google DevFest 2019 Mauritius.
Do you have an article about DevFest? Kindly send the URL to me via Twitter. Don't forget the hashtag #DevFest.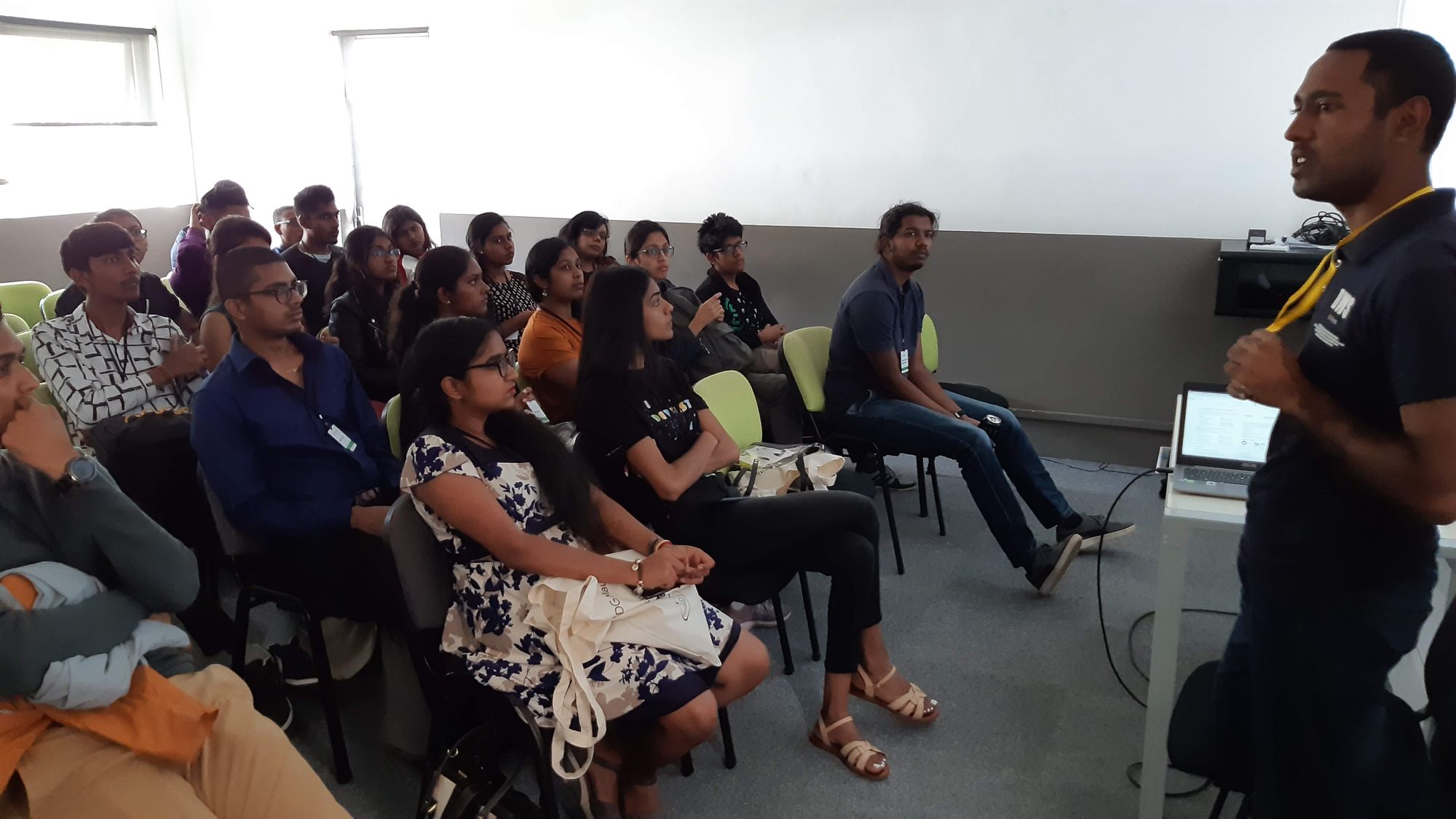 More snapshots can be found in our Photos album. Please upload your own pictures of DevFest Mauritius, too.
Session recordings
One of the questions that we were asked regularly was about whether there would be a possibility of live streaming or recording of all sessions. By chance, the peers over at SUPINFO offered their A/V equipment for the event. As GDG Mauritius we had to invest into a few items only, like i.e. tripod, directional microphone. Something that we wanted to do anyways to be able to record our regular meetings.
The GDG Mauritius channel on Youtube is already in place and we are post-processing the video material gathered during DevFest. Subscribe to the channel and get informed automatically when we publish new material.

Expect a few clips on the following topics:
Flutter
AI/ML offerings from Google
Tensorflow
Modern web development
Google Cloud Platform
Firebase
Google certifications
etc.
In the future, we are going to record (almost) all of our activities. The next planned meeting is probably about the Google Cloud Platform in form of a Cloud Study Jam. More information will be announced on our Meetup page soon.
Kudos to our partners and supporters
Organising and running a full-day conference with many sessions, speakers and attendees not only requires a certain level of contribution and passion but also financial means. The GDG Mauritius is grateful for the support of the following partners:
Personal note from Jochen
Wow, just wow! DevFest 2019 in Mauritius was amazing. I would like to thank a few people (in no particular order) for their passion, their drive and effort put into another successful event.
As new co-organisers of GDG Mauritius, Mary Jane and Marine, who took a heap of work off my shoulders and they took care of all the nifty-grifty little details to put DevFest together. Arwin Neil for the hours spent on the Hoverboard template and the necessary modifications to get our DevFest 2019 website ready in time. Vidush for all the effort to negotiate monetary support from local partner(s).
Thanks to the 'Triple A-Team' - Ada, Aniedi and Auwal - our regional GDG leads in Nigeria who put a lot of energy into the success of the GDG program in Africa. To Vinessen (SD Worx) and Zulaika (Spoon Consulting) for their fabulous "Yes, let's do it" attitude to support IT communities throughout the year. The geeks of front-end coders, Cedric, Sandeep, Nayar, Pritvi, and others who volunteered to bring FLOSS and git closer to DevFest attendees. Johanne (Teamonite.mu) and her crew for the superb quality of the T-shirts.
A big shout out to Carole and Alex of SUPINFO for their patience with all the questions we had and the immense support at the venue; also thanks for the assistance to record those talks. The team of helpers: Shelly, Emmy, Arwin Neil (again 😉), Kaveer and Vanessa to welcome all attendees and put a smile on their faces with goodies and stickers.
Apologies to anyone I might have missed...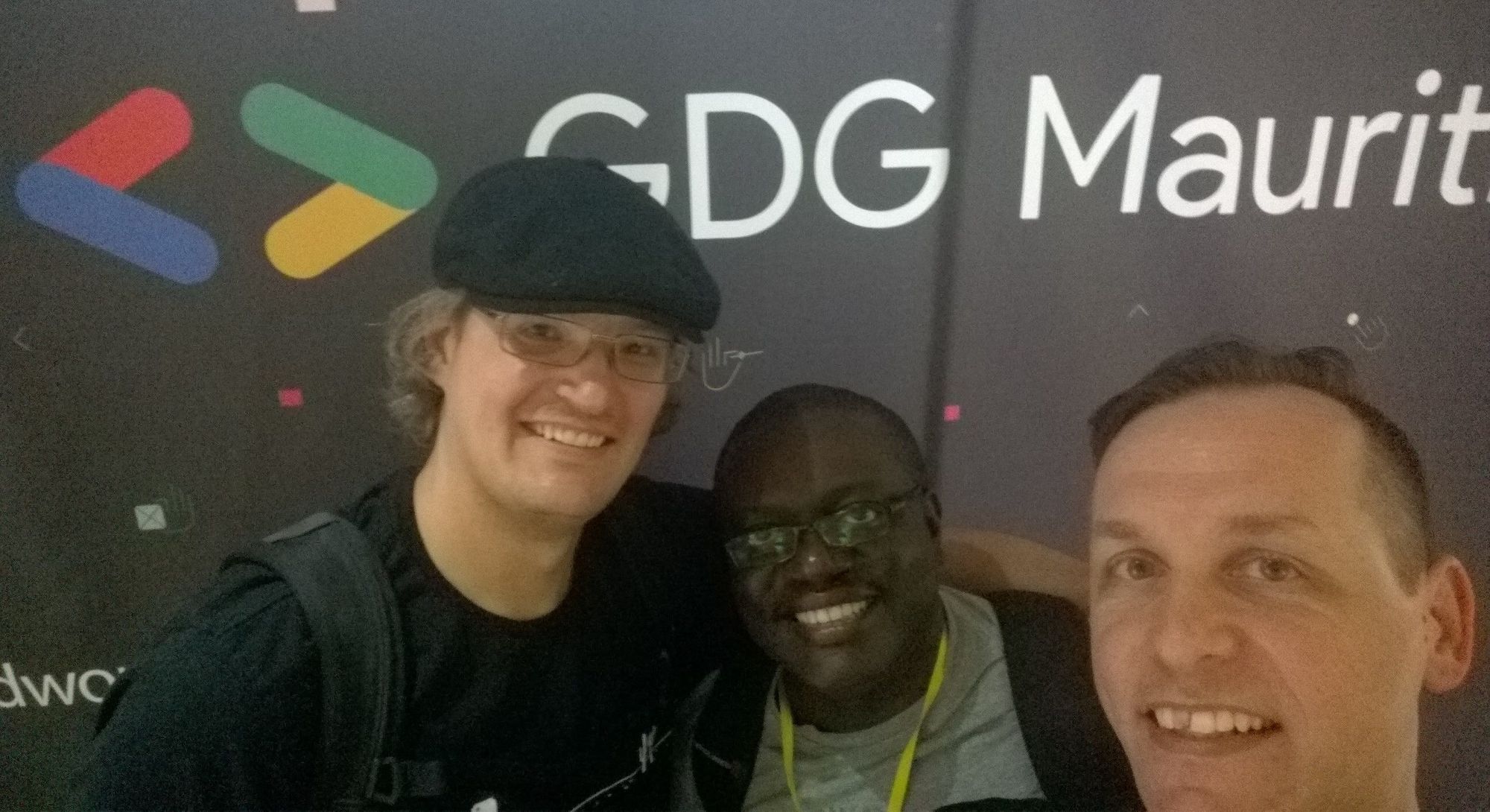 It was my pleasure to welcome both Google Developer Experts, Mike and Robert, to Mauritius. I hope that the (long) hours of travelling was worth it for you.
And last but not least, my gratitude goes to my wife Mary Jane, my three little hackers and my mother who spent the whole day on the campus.
Cover image courtesy of Alexandre Rose