Whew, we did it! And it was an awesome rollercoaster. The Virtual Developers Conference has been a first-time experience for us, and we had to face a good number of obstacles this time. Apart from the general situation of the pandemic and its implications in regards to distancing there had been technical challenges to work out.
As mentioned in Newsletter: Developers Conference 2020 is being postponed we had no other choice than to skip the idea of running DevCon back in April. After a number of meetings and discussions among the community and with all our partners we then announced in July that Newsletter: Developers Conference 2020 is going virtual.
Since then we had endless online conference calls to work out the details of the website, get back in touch with confirmed speakers to see whether they would be still interested to run their talks and with a number of previously declined speakers (mainly due to cost of air tickets) to check if they would be available and consider to be part of the virtual event.
Thank You!
Big thanks to our event partners and sponsors to trust the MSCC and the organising team behind the conference, and to be open to our suggestions of running a virtual event during these difficult times.
Shout out to all the speakers switching to the online experience and offering their time and knowledge during the numerous emails, attending the test runs and finally presenting their content in one of the live streams.
Thanks to all the community volunteers in the making of this event. You all did an amazing job and we want to thank you for the endless amount of hours attending online meetings in preparation for the Virtual Developers Conference.
Prize giveaway winners
Finally, we were able to add a long-anticipated activity to our conference: Prize Giveaways. The rules were pretty simple and we announced them early on social media.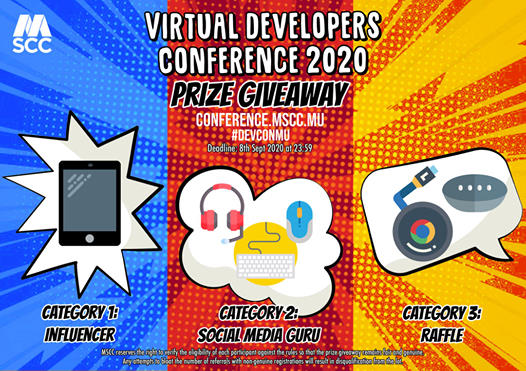 Category 1: The Influencer
Giveaway: iPad
Reach a minimum of 20 registrations from your squad and qualify for the race! Make sure they enter your email address in the question "How did you hear about this event?"
May the geek with most referrals win!
Category 2: The Social Media Guru
Giveaway: An MSCC approved kit with headphones, keyboard and mouse
Like our MSCC page and this post and share it to qualify. Make sure to use the hashtag #DevConMu to let us know when sharing.
A random winner will be picked from the pool.
Category 3: The Lucky Raffle
Giveaway: A Google Smart TV kit
A lucky winner will be picked at random from the registered attendees during our DevCon Closing Ceremony.
Register now to add your name to the goblet!
And the winners are...
Category 1: unfortunately nobody achieved the qualification criteria and the prize will be brought forward to the next event.
Category 2: Arvind Balgobin
Category 3: Beebeejaun Moossa
Congratulations to all winners!
The organisation team is going to reach out to you to discuss the handover of the prizes.
Some statistics...
The number of registrations went up again compared to the previous conference. We noticed a total of 668 unique registrations. Although it was not compulsory to register for the online event itself.
To promote the conference we constantly published multiple posts per day to announce partners and speakers. Additionally, we ran several paid campaigns on various social media channels with targeted audience.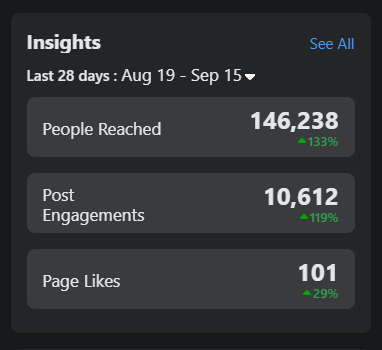 Twitter has buzzing based on our promoted hashtag: #DevConMU and there is great engagement from some of the speakers, too.
Just to link a few...
Our YouTube channel had already surpassed the critical mass of at least 100 subscribers ahead of time, and this allowed us to promote it easily, too. Publishing the live streams ahead of time allowed us to promote them and you had the chance to set reminders.
Following are a few charts provided by YouTube during the period of 8th September and 12th September. We had to choose an extended period due to the nature of different time zones between us and YouTube.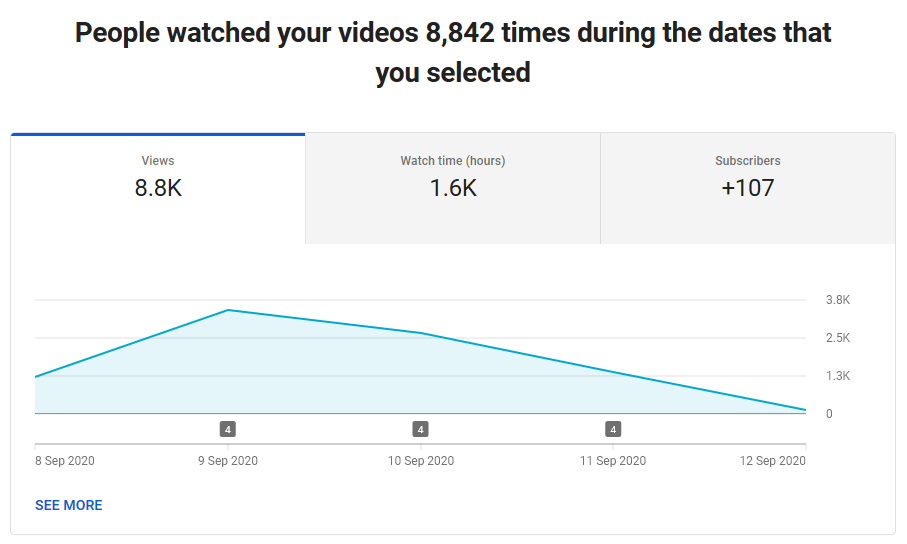 The majority of viewers is located in Mauritius. However there been a good number of guests from different parts of the world who joined the live streams. Thanks for taking the time and viewing the talks.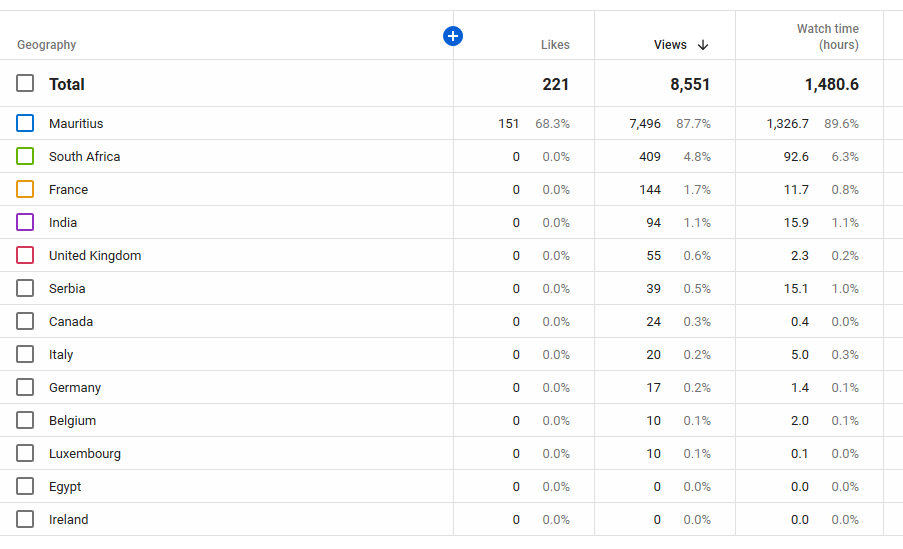 Below are a few charts on activities and demographics that happened during same period. Personally, I'm happy to see a female participation of over 22% although that number needs to increase more.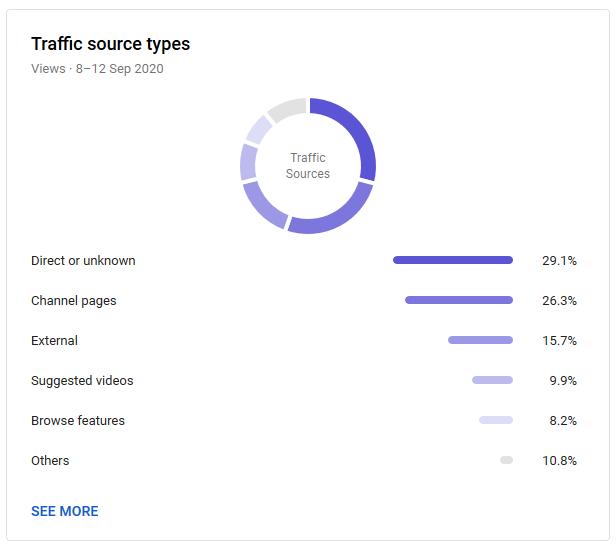 Highest view count was on Wednesday, the first day of the conference. We managed to keep viewers engaged during the following two days. Eventually, this drop might have been related to the technical hiccup(s) we had on the first day - echo in the audio track and devastating lag in Kryptone.
We learned our lessons from that and the technology stack had been improved over night. More on the architecture and software we used in the following paragraph.
The technical setup used
In order to provide a distraction-free modus operandi for the speaker(s), easy application of our MSCC branding, and the ability to switch between multiple layouts, we looked into various possibilities of running the conference.
First, we checked out the established conference call systems, ie. Microsoft Teams, Google Meet, Zoom (not really because of security and privacy concerns), and our own installation of Jitsi Meet running on Google Cloud Platform. Those systems work perfectly. However we had multiple concerns in regards to this approach:
We had no idea about the number of participants and there are limits for the maximum number of participants
Peers in such meeting rooms are kind of equal, meaning everyone can open the microphone and start talking
Choice of pre-defined layouts is very limited
Hard to apply exposure of our partners and MSCC / DevCon branding
Given those constraints we looked into other possibilities and craftsman Ish suggested to look into BigBlueButton and he organised a test run on a system. It went well and the ad hoc interaction to annotate notes is really cool. But again, everyone in the same room causing a high level of distraction.
Lastly, we came across a solution based on OBS Studio and Skype using its built-in the NDI technology. This seemed to provide us with the maximum flexibility and handling of speakers as well as recording and streaming options.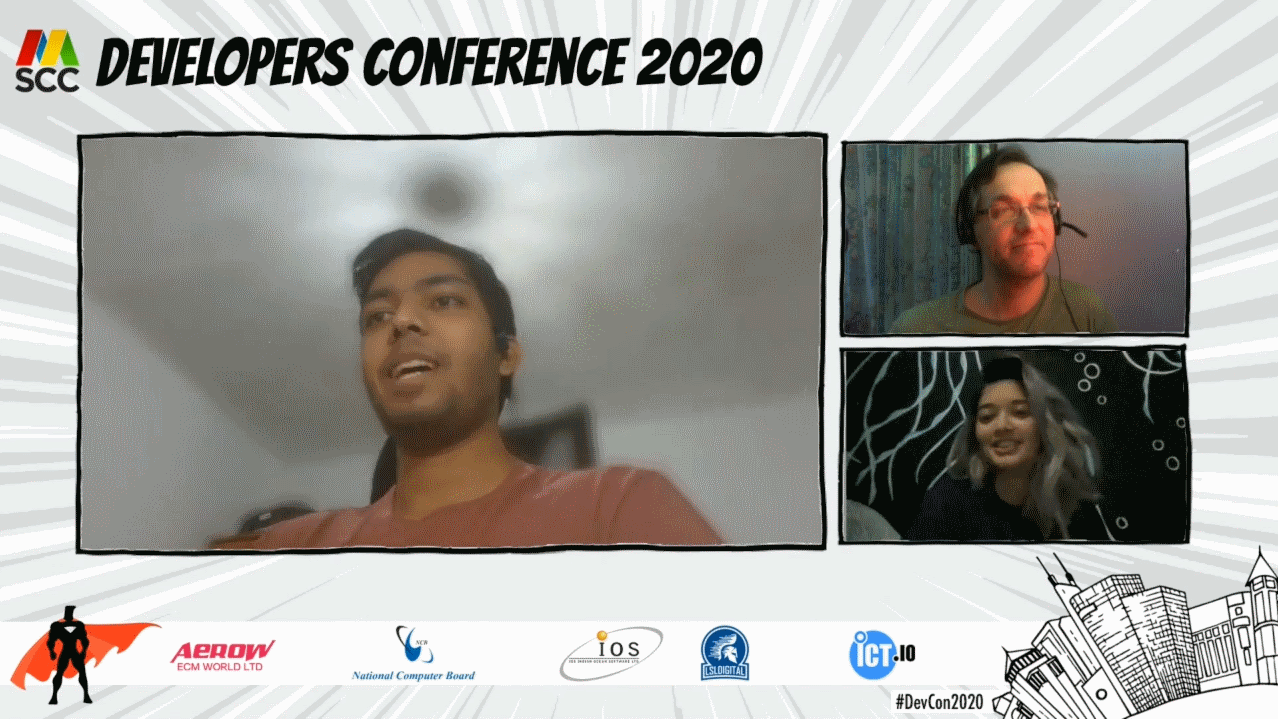 Craftsman JoKi wrote a more detailed article about How did we run the Virtual Developers Conference 2020? and described the whole setup behind the scenes.
Announcements during the Closing Ceremony
Apart from the information described above and similar statistics we also announced a few more novelties during the Closing session of the Virtual Developers Conference. As we are growing as a community in Mauritius we noticed a growing interest of interaction among peers.
With the handling of filling gaps in the conference agenda the organisation team came up with the idea to run kind of podcast like sessions between the track hosts and guests. The concept of having a community-driven podcast was already lingering and evolving behind the scenes and now with the recordings from the event we officially announced Talks on Software Craftsmanship.
It's all about software craftsmanship and tangible topics. Each week craftsmen of the MSCC are going to have a conversation with a guest to shed some light on their experience in modern software development. A commute-time podcast that promotes new voices from the community.
Another observation over the past months and to counter-act during these difficult times we also noticed an increasing demand from our partners in regards to recruitment. You might have seen numerous postings in previous newsletters.
The second announcement during the closing talk is the official launch of Jobs in Tech - our job portal specialised in job listings and positions in the IT sector. Over the coming weeks we are going to reach out to conference partners and other companies to advertise their open job positions on our portal. And we are looking forward to advertise other businesses.
If you would be interested to know more, kindly reach out to the team per email: sales@agilemedia.mu
Developers Conference 2021 is coming...
Last but least it shall be mentioned that the organisation and execution of the Virtual Developers Conference has been a top-up for the "postponed" physical Developer Conference. All partners and supporters are automatically enlisted for 2021, and we used a part of the funds already raised for this virtual event. No additional funding had been requested although existing partners generously offered more.
Running a virtual conference over three days is excited and exhausting! We are really looking forward to our next offline conference around March / April 2021...
Stay safe and healthy!
The Organisation Team
PS: Subscribe to our YouTube channel and you will be automatically notified as soon as we upload a post-processed talk.